Looking for reliable cloth masks with antibacterial properties? Here is all of what you should know about the benefits of antibacterial cloth masks.
Medsupply Australia was founded in 2012 as one of Australia's fastest growing medical consumable and equipment manufacturer and suppliers providing quality and innovative products to all customers.
In the unpredictable situation of Covid19, face masks importance has been enhanced, and MEDSUPPLY made a big step to distribute high quality Dony Mask (Premium Reusable Antibacterial Face Mask) to the Australia & New Zealand market.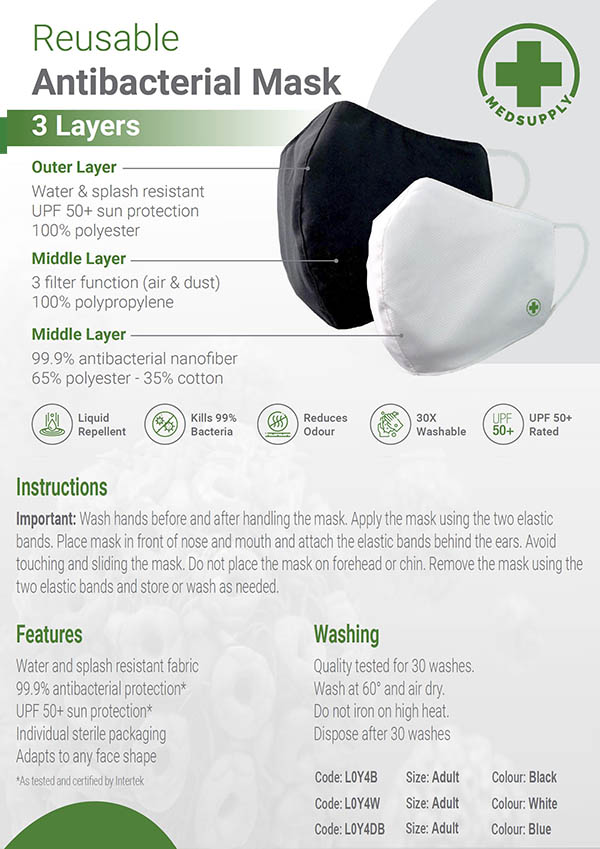 What Are The Benefits Of Antibacterial Cloth Masks?
Never before have we expected masks to become a wardrobe staple. But as COVID-19 situation has still been complicated, wearing masks is highly advised. Masks come in many different styles, yet the most popular and favored ones are antibacterial cloth masks.
What is it about this type of mask that has made it widely recommended? 
How Do Antibacterial Cloth Masks Work? 
High-quality antibacterial cloth masks normally have three layers to ensure resistant properties.
The outer layer is specifically designed to feature water resistance. This layer prevents droplets from sticking to the mask surface and limits the infection of bacteria.
The middle layer acts like a filter. It minimizes the contaminated air and dust that can enter your mouth/ nose, further protecting your respiratory system.
The inner layer is the key to making the mask antibacterial. It has the most properties to prevent the entrance of bacteria.
As compared to ordinary cloth masks, antibacterial cloth masks are less prone to unpleasant smell, fabric deterioration, and discoloration. Since they are washable and reusable, antibacterial cloth masks can help reduce virus and bacteria cross-contamination.
Another outstanding feature of an antibacterial cloth mask is its Ethylene Oxide Gas Sterilization. It penetrates the bacterial-sized matters to ensure the hygiene quality, acting as a shield protecting the mask from bacterial infection.
What Are The Benefits Of Antibacterial Cloth Masks?
Superior Protective Functions
One of the most obvious benefits of the antibacterial cloth mask is its highly protective functions. As mentioned, these masks are capable of water, dust, bacteria, droplet, and airborne particulate resistance.
For this reason, they help protect you from certain infectious diseases. Antibacterial cloth masks are thus highly advised for the prevention of virus spread, which is especially an important item for asymptomatic people.
Washable/ Reusable Multiple Times 
You can use these masks several times, which makes them much more economical than one-time masks. Besides the cost-saving benefit of these masks, they also offer better hygiene. Most people tend to touch their masks (and their face consequently) multiple times. With the self-sanitizing feature, these masks reduce the risks of contamination/ infection.
Good Breathability 
Quality antibacterial cloth masks come with good air permeability. Both adults and kids can experience ergonomic breathing when wearing them. Even for the primary purpose of protection, breathability is also a worth-buying point when it comes to shopping for masks.
Wearing Comfort & Skin Friendliness
Reliable antibacterial cloth masks are comfortable to wear and not harmful to your skin. They are dustproof and do not cause any irritation to your complexion. With the nose support and soft ear loops, they won't fog up your glasses even when you're wearing them for a long time.
Should You Wear An Antibacterial Cloth Mask?
Medical experts strongly recommend wearing antibacterial cloth masks, especially when you're in public. It's for your own safety and also for the community. Antibacterial cloth masks remain the ability to protect you from most bacteria with a maximum of 60 washing times.
Even if you have sensitive skin, these masks are still the safest and most comfortable approach for your respiratory system protection. They even free you from the dust that may cause allergy to your facial skin.
Even though face masks won't replace the need to frequently wash your hands, it's necessary for your communication and interaction when in public.
Where To Shop For Antibacterial Cloth Masks? 
There are now countless brands manufacturing antibacterial cloth masks, making it harder than ever to choose the one with a good reputation. One of the brands that checks all the boxes to be a reliable antibacterial cloth mask is Dony Mask.
With the 3-ply protection, high-tech sterilization method, and good breathability, Dony Mask fulfill all the specifications of FDA, ISO 9001:2005, and C.E. Certificate. They have all the needed approvals for European market exports, wide-spreading its market all over the world.
Video Link: https://www.youtube.com/embed/qfFJ_7igaRE – Now residents of Adelaide, Albury, Ballarat, Bendigo, Brisbane, Bundaberg, Cairns, Canberra, Coffs Harbor, Cranbourne, Darwin, Geelong, Gold Coast, Hobart, Launceston, Mackay, Mandurah, Melbourne, Newcastle, Nowra, Perth, Rockhampton, Sydney, Toowoomba, Townsville, Wagga Wagga, Wollongong, Auckland, Christchurch, Dunedin, Hamilton, Lower Hutt, Manukau, Napier, Nelson, New Plymouth, North Shore, Palmerston North, Porirua, Rotorua, Tauranga, Waitakere, Wellington Whangarei, Whangarei can easily be purchased and applied with Dony Mask through Medsupply Australia.
Speaking of safety, Dony Mask are also approved with TUV Reach Certificate, Aseptic Inspection Certificate, and 100% waterproof Intertek Certificate. They are then free from toxic chemicals, microorganisms, and U.V.
Most importantly, Dony Mask is one in a few brands granted with DGA certification for its sheltering ability against the NCovid virus (up to 99%). So if you are looking for a reliable mask brand over the long run, Dony Mask is one of the answers.
Conclusion
We've just walked through all the significant benefits of antibacterial cloth masks. When it comes to finding the right one, most medical experts consult to prioritize the protective features, breathability, comfort, and safety into consideration.
Wearing antibacterial cloth masks is important in an attempt to reduce the transmission of the virus. Protect yourself and stay safe!
In the evening of 5th June 2020, Dony Garment Company and other Vietnamese enterprises has donated medical supplies to the US people.
At the ceremony, Mr. Daniel Kritenbrink, U.S. Ambassador in Vietnam has extended his heartfelt gratitude and confirmed that Operation USA Organization which based in Los Angeles, USA will distribute these medical supplies to needed places such as California, New York, etc.
What are Dony's commitments?
+ Product quality: Dony is committed to offering 100% sterilized masks. If germs are found, we will take full responsibility.
+ On-time delivery with high-quality products: Provide a 100% money refund if Dony does not follow this commitment.
Special features of Dony Mask:
+ Extremely comfortable: Soft – thin – lightweight type cloth, Perfect fit & Organic cotton ear loops.
+ Fashionable: 3D tailoring design, Various Colors, Non- Valve & V Shape Nose Support.
+ Breathable (ergonomic breathing – good air permeability) & Doesn"t cause glasses to fog.
+ High quality protective: Antimicrobial Finished (This finish inhibits the growth of microorganisms, such as bacteria, viruses, fungi, algae, mold, and mildew), Multi-layer Nano biotech filtration (air filter & cleaner), Chemicals free & Deodorization.
+ Skin Friendly: UV protection (UPF 50+) & Non-irritating.
+ Easy to use in daily life: school, working places (office company, factory workshop, SPA), public places – Outdoors, travel, workout.
+ Eco-friendly & Save over 85% vs disposable masks.
Dony have a professional supply chain because it has experience in exporting face masks in large quantities to many countries whose markets are strict such as South Africa, China, African, Los Angeles, USA, Australia, California, Canada, UK, Dubai, Europe, Kenya, Ireland, New York, Arabic, Belgium, Germany, France, United Kingdom, Netherlands, Luxembourg, Bahrain, Cyprus, Egypt, Jordan, Kuwait, Lebanon, Oman, Saudi Arabia, Qatar, Syria, Turkey, United Arab Emirates (UAE), Yemen, Italy, Spain, Ukraine, Poland, Romania, Kazakhstan, Greece, Czech Republic, Portugal, Sweden, Hungary, Belarus, Switzerland, Bulgaria, Serbia, Denmark, Slovakia, Norway, KSA, Persian, Brazil, Kypros, Iraq, Israel, Liban, Argentina, Palestine, Liberia, Zimbabwe, Uganda, Uzbekistan, South Korea, Japan, Russia, Indonesia, Singapore, Philippines, Mexico, India, Peru, Chile, Colombia, Ecuador, Dominican Republic, Panama, Bolivia, Armenia, Austria, etc
Source: https://www.abnewswire.com/pressreleases/australia-new-zealand-3ply-reusable-face-mask-sourcing-fda-ce-approved_501394.html
DONY MASK: The Covid-19 Mask – Premium Cloth Face Mask Manufacturer (washable/reusable, FDA/CE/DGA)
Henry Pham (Pham Quang Anh), CEO of DONY Garment
This year, we have found that many international buyers are seeking new suppliers based in nations outside of China and Thailand to purchase many goods and products, including uniforms, workwear, reusable cloth face mask, and protective clothing.
At DONY Garment, we are proud to welcome international customers, especially those based in the US, Canada, the Middle East, and the EU market to discover the professional production line at our factory in Vietnam.
We guarantee our products are of the highest quality, at an affordable cost, and easy to transport across the world.